Uncle Bruce
10/12/1945 -11/26/2000
Uncle Bruce, age 55, passed away late yesterday evening at
his home in Winter Springs, Florida. He leaves behind his wife,
his mother, his father and stepmother, three brothers and sisters-
in-law, four nieces, and two nephews.
Me being the oldest of the nieces. I got the news this morning at
work, and i had to come home. he slipped into a coma on Saturday.
I will write more when I can.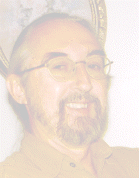 11/17/2000 Hi my dear Friends,

Another update on my uncle. His insides were full of cancer when they opened him up, and they apparently just sewed him closed again. My mom just called having talked to my grandma. Gram spoke to my uncle Brice and also to Bruce's wife Dori. Uncle Bruce is very weak and failing. Dad and my Gram are flying down on Sunday morning. They made some quick reservations with an emergency medical thing.

My mom and I aren't going along as of this time. I will probably have to meet someone to pick up my grandma tomorrow because my dad is not doing very good, he's not himself and is very upset. I will have to try to buck up tomorrow for the long drive which I am kind of afraid of, but I'll do the best I can. I'm just kind of numb. It was only a month ago when we were at the ocean together. This is so hard.
I was really hoping that he'd be able to come home for a while and stay on pain killers for a least a while, but it doesn't sound like he's going to live very much longer. Please send your prayers and thoughts if you can. Thanks for all of your support. I'm going to try to get some sleep.
I have still (2003) have not brought myself to go through all the old letters and cards he had sent to me over the years. We were really good pen pals for a long time. He told me six weeks before he died, that he wished he had been closer to me and my sisters as we grew up. He had so much fulfillment from my cousin Michelle that he felt like he really missed something not being around his other three nieces as they grew up. It meant a lot to me to know he held us in high regard. I miss him dearly, and still sometimes forget that he isn't there anymore.