Kitty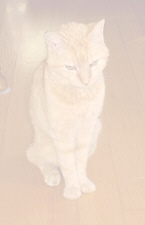 1/26/01 (Angel's Birthday)
My parents have told me that Kitty, our 17 year old queen of the homestead, is beginning to fail. I am so sad. Memorial day is the time I go to talk to my old puppy, Angel, and I realized as I was sitting at her grave yesterday that sixteen years have passed. Kitty was only one when she died. I know 17 is old for a cat. But no one knows this feisty kitty like I do. She got hit by a car when she was 7, and survived that, had to wear a cast on her leg for months. Kicked neighbor cats asses and collected mice and chipmunks like crazy, even with no front claws. She is the coolest. About six months ago she started getting skinny. Just two weeks ago she got in a fight outside with a tomcat who came too close to the house. I guess you have to know her to love her. She's a cat with attitude. Mom couldn't get her to eat today. She drank a little milk and begged to go outside, mom walked with her, umbrella protecting both of them from the rain, and kitty went to the stream that runs through the yard. That's the water she LIKES! :) I guess mom stood there for 10 or 15 minutes while she drank. Then she went to sniff all her usual spots and was ready to come back in the house. I just talked to mom and she's trying to be tough but she was crying. Our poodle Daisy is 15 too. It's like the old folks' home there, but those two old ladies rock. Kitty is deaf and Daisy is blind. They are a funny pair. Anyway, mom was going to try to tempt kitty with some tuna because she hadn't eaten today. My heart is just breaking, slowly. I dread this phone call.
Mom and Dad just left Florida today to come home I guess. My sister found Kitty today when she went to feed her. She's not alive. Jaime called me before and they've made a box for her, and brought her to their house so mom and dad don't come home to find her. Poor Kitty. All alone. My heart is crying right now. She's been our Kitty for almost 18 years. I love her so much. I will miss her so much. I don't really know what else to say. This has been one of my biggest fears of Mom and Dad going on these trips. I love Kitty so much.
I realize now that I'm no longer a child.